Pocket Volleyball
Welcome to Pocket Volleyball! I've tried to capture the game of volleyball in the smallest, simplest way possible. Made in just a few days for LowRezJam 2021 (Resolution: 64 * 36).

It's Blue team vs Red team and you're on Blue. In this simplified version of the game, you just need to dig and receive the ball-- your teammate will set to you, then it's up to you to aim your spike and get the point! First team to 15 wins!
New in ver. 1.0
Bug fixes!
animation fixes!
keyboard support has been added!
coming in ver 1.1:
2 player VS mode
I'd also like to make an android version?? then it would live up to the "Pocket" name. this might not happen lol
credits:
art & code by me
fonts by castpixel and Daniel Linssen
Comments
Log in with itch.io to leave a comment.
sweet game !!! cant wait to see if you add blocking ;)
Soooooooooo hard ! But really funny idea :D
Another volleyball game creator? your game looks sick!
Ah ah thank you ! It was fun to dev it and we're thinking of what we should do now. Keep going on this project and make it big or making a new game :)
What about you ? :D
I'm in the midst of another jam right now but I will probably add a 2-player mode to this little game, maybe tweak it a little bit more... but I don't think I can leave it there. I will absolutely develop another, more ambitious volleyball game at some point haha. I downloaded your game and will try it out tonight and give some feedback if you like!
What jam ? :O
Ah ah ! We need more volleyball games :D
And yes, it would be a pleasure to have feedback from another volleyball game dev ♥
FINALLY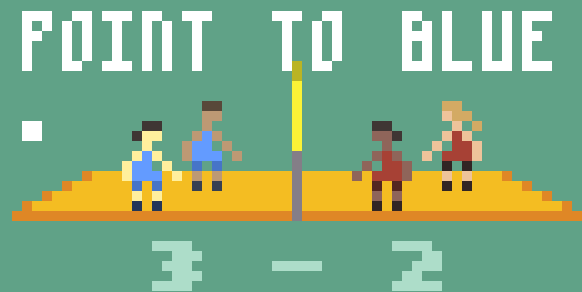 Man I am bad at volleyball, but the spikes always feel really good!

Cute game <3 I love square balls. This. is. TRUE. volleyball.
Good job! Very fun and the AI is good too!

That's amazing and very-very cute!!!
Hey, this is pretty neat. The game flow feels pretty natural. Now if only we had serve rotation!
Yeah it's fairly limited (for now). I am going to probably build this one up a bit more then maybe do another more ambitious volleyball game?? Maybe I'm getting ahead of myself. thanks for playing!