Pocket Volleyball
Comments
Log in with itch.io to leave a comment.
sweet game !!! cant wait to see if you add blocking ;)
Soooooooooo hard ! But really funny idea :D
Another volleyball game creator? your game looks sick!
Ah ah thank you ! It was fun to dev it and we're thinking of what we should do now. Keep going on this project and make it big or making a new game :)
What about you ? :D
I'm in the midst of another jam right now but I will probably add a 2-player mode to this little game, maybe tweak it a little bit more... but I don't think I can leave it there. I will absolutely develop another, more ambitious volleyball game at some point haha. I downloaded your game and will try it out tonight and give some feedback if you like!
What jam ? :O
Ah ah ! We need more volleyball games :D
And yes, it would be a pleasure to have feedback from another volleyball game dev ♥
FINALLY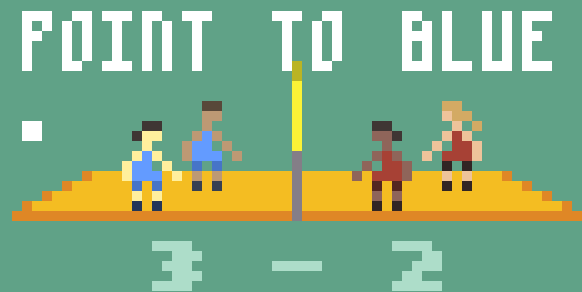 Man I am bad at volleyball, but the spikes always feel really good!

Cute game <3 I love square balls. This. is. TRUE. volleyball.
Good job! Very fun and the AI is good too!

That's amazing and very-very cute!!!
Hey, this is pretty neat. The game flow feels pretty natural. Now if only we had serve rotation!
Yeah it's fairly limited (for now). I am going to probably build this one up a bit more then maybe do another more ambitious volleyball game?? Maybe I'm getting ahead of myself. thanks for playing!